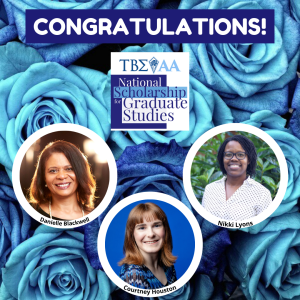 Congratulations to the 2022 TBSAA National Scholarship for Graduate Studies scholarship recipients: Danielle Blackwell from Zeta Tau, Courtney Houston from Alpha Mu, and Nikki Lyons from Zeta Kappa.
Thank you to all the outstanding applicants who applied this year! All TBSAA members pursuing graduate studies next year are encouraged to apply in 2023.
Danielle Blackwell
Danielle Blackwell is the CEO of D'Image Production & PR Management. Founded in 2008, D'Image Production was created to provide a holistic support system for established and start-up organizations with creative resources and innovative tools to assist with their foundation, development, and sustainable growth. Ms. Blackwell also serves as a Philanthropic Gift Officer for PBS North Carolina, the statewide public media network and multimedia platform.
Ms. Blackwell is currently an honor student in the Executive Master of Public Administration program at North Carolina Central University. She also serves as the 2022 Miss OES for the Randolph Chapter #185, Order of the Eastern Star, Prince Hall Affiliate, and a member of the Leadership Council for the National Association of Small Businesses. Ms. Blackwell was inducted into the Zeta Tau Chapter of Tau Beta Sigma Honorary Band Sorority and is active in the Southern District Alumni Association.
Ms. Blackwell is a servant leader. She's assisted hundreds of students with college readiness, visitations, and applications through sponsored band trips and events. She is proudest of being a mommy to three daughters and two grandchildren.
Courtney Houston
Born in Atlanta, GA, and raised in Ottawa, KS, Courtney Houston has been actively involved in the study of music since beginning voice lessons at age 6 with a member of the Atlanta Symphony Chorus. Additionally, she has played the violin and French horn since age 10.
As an undergraduate music major at Wichita State University, Ms. Houston majored in Vocal Performance, French Horn Performance, and Music Education, studying with many distinguished professionals such as Deborah Baxter, Alan Held, and Lindsey Ramey for voice; Nicholas Smith and Jeb Wallace for French horn; and Brian Krinke, Betül Soykan, and Timothy Jones for violin. She was also accepted into the Bill and Dorothy Cohen Honors College and graduated in the spring of 2021 as an Emory Lindquist Honors Scholar with summa cum laude distinction.
During her time at Wichita State University, Ms. Houston was heavily involved in various music organizations, including ACDA (American Choral Directors Association), Mu Phi Epsilon, NAfME-Collegiate, Shocker Sound (pep band), Shocker Sound Machine (marching band), and Tau Beta Sigma.
Nikki Lyons
Nikki Lyons is a Fall 2005 initiate and Life Member of the Zeta Kappa chapter at the "Unsinkable" Albany State University. As an Active member, she played the flute and piccolo as a member of the Marching Rams Show Band and Concert Band ensembles and was honored to serve in various leadership roles in her chapter.
Currently, she serves the Sorority as a Chapter Visitation Assistant and a member of the Curriculum Committee. Nikki is a member of the Tau Beta Sigma Alumni Association and the Southeast District Alumni Association. Nikki has earned degrees in Early Childhood Education (Albany State, 2008 & 2011) and Instructional Technology (University of Northern Iowa, 2015).
She currently resides in Gainesville, Florida where she works as a Quality Assurance Coordinator at the University of Florida. She spends her free time reading, listening to podcasts, enjoying food, and traveling to spend time with her loved ones and see bands in action.