Our Founder
Wava Banes Turner Henry was born in Cleveland, Oklahoma, on March 14, 1920, and grew up in the oil fields of Oklahoma and Texas. She attended schools in California, Oklahoma and Texas and graduated from Wink, Texas, High School in 1936. Her parents felt that she was too young to go to college, so she spent another year in high school playing in the band and participating in sports. In the summer of 1937, Wava entered Texas Technological College (now Texas Tech university). She graduated in the summer of 1940 with a Bachelor's Degree and a major in Band Music. While attending Texas Tech, Wava succeeded in getting sorority status for Tau Beta Sigma in 1939.
Most universities were not allowing women in the band at that time, and there were no women Band Directors around. Finally, she got her first position in Avoca, Texas, in the fall of 1940. Wava's teaching duties included vocal music in all grades, band in all grades, and coaching basketball and track. The following year she accepted a position in Andrews, Texas. In December 1941, Wava married H. Jack Turner, Jr., who was a charter member of Alpha Omicron Chapter of Kappa Kappa Psi. They lived in Lubbock, Texas, and she worked in a music store until Jack went into the Army Air Forces. In 1943, Wava became band director in Sundown, Texas.
After the war, Wava and Jack had a business in Lubbock, and Wava attended Texas Tech and received a Master's Degree. After Jack's death in 1958, she received her certification in math and counseling. She taught math in the Lubbock school for a year before she moved to Aspen, Colorado, in 1961 to teach in the Aspen Schools. Later, she became counselor and administrator until her retirement in 1981. Wava was involved in developing the Outdoor and Experiential Programs in the Aspen School District as well as serving as District Director of the programs. She was also coordinator of the school ski program for several years.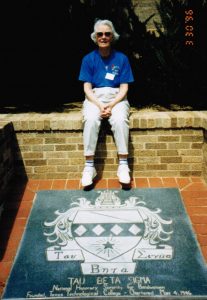 She became involved with Tau Beta Sigma
again when she attended the National Convention in 1971.  And she has attended every National Convention since then. She is a Charter member of Beta Chapter; a Life member of the Sorority; an honorary member of Alpha Chapter; a life member of the Board of Trustees; a Life Member of the National Alumni Association; and an honorary member of Alpha Omicron Chapter of Kappa Kappa Psi. Beta Chapter has set up a scholarship in her name at Texas Tech. Among her other awards are Beta's 50th Anniversary for Outstanding Service award and the Kappa Kappa Psi Richard E. Tolley Service award.
Wava married Reese Henry in 1981.
Wava says that she will remain active in Tau Beta Sigma until she joins the Great Sorority in the sky.
An Article on Wava 
featured in the Fall 2010 Edition
of The Podium:
On March 13, 2010, Wava Banes Turner Henry celebrated her 90th birthday in grand style in Grand Junction, Colorado.  She had asked her daughter Sandra and her three granddaughters, Alison, Jordan and Lindsey to throw her this party as a living memorial.  There were over 70 guests from all aspects of Wava's life and it was truly an honor for me to attend, along with Jean Newman and Patsy Hejl, on behalf of Tau Beta Sigma.
Most of us only know Wava through our affiliation with Tau Beta Sigma.  It is the first name that we are all taught through our Membership Education Program and she is the continuity in our Sorority.  I have had the pleasure of knowing Wava for over 23 years but what made this night so special to me was that I got to see and hear about  the other sides of Wava; the Mother, Gran Gran, Educator, Golfer, Camper, Neighbor and Friend. Several people were given the opportunity to share their special stories and memories with everyone in attendance and it was a rare insight to the unique person that we all know and love.
Wava attended Texas Technological College from 1937-1940 and the children of many of her dear friends from College as well as her High School in Wink, Texas were present and shared the stories of how they were all so close and like a big happy family.  One such daughter explained that they felt like they had won the "Parent Lottery" because not only did they have such wonderful parents of their own but Wava and her first husband Jack were like a second set of wonderful parents, or as she explained the "Fun" parents because of Wava's more laid back attitude and sense of humor.  After graduation Wava and her first husband, Jack (a Charter member of the Texas Tech Kappa Kappa Psi Chapter) remained in Lubbock where she became among the first woman band directors in Texas and taught in the small outlying towns of Avoca and Andrews, Texas. She was then employed by Adair Music Company and was a Band Director in Sundown, TX while Jack was overseas in the Air Force.  She then opened a small restaurant in Lubbock, TX where she was very well known for her homemade pies.  As a special treat, some of her pies were provided to us throughout the evening as well as the recipes to Wava's own Pecan and Lemon Meringue Pies.
After her husband passed away, Wava obtained a math degree and certification in counseling.   She then moved to Aspen, Colorado in 1960 with her daughter and became a math teacher and counselor for the Aspen Middle School.  Many of the remaining speakers for her birthday party were from this era as they shared insights into her passions of Golf, Skiing and White Water Rafting.  Several of the speakers were colleagues of Wava's from the school in Aspen.  When they started working with Wava, they were all very young (early 20s) and thought it would be hard to identify themselves with a much older woman (Wava was only in her 40s).  It soon became evident how this tough old broad would make herself important to this younger group of wild guys.  She found her niche by taking charge of the kitchen and cooking for them on their many white water rapid trips.  She was also a great Raft Captain, a very dutiful paddler and always did what she was told.  It was in Aspen where she met Reese Henry and they were married in 1981.
Some of my favorite stories were from her family and her husband Reese.  It is very evident how close they all are and the special bond they all share.  It is also funny to me that although Wava's family is aware of Tau Beta Sigma and how important it is to her, they do not fully know the magnitude of all the people she has really influenced.  One of the granddaughter's comments was, "You know your Grandmother is pretty special when she has more facebook friends than you do!"  (Wava has over 2,400 fans!)  Both Patsy and I had a chance to address the crowd and share our special bond with Wava and all the members of Tau Beta Sigma.  I presented Wava with a blanket embroidered with the TBS Crest on behalf of the National Council and TBS Membership. Patsy presented her with a gift certificate to one of her and Reese's favorite restaurants from the Board of Trustees.
The evening, or entire weekend for that matter, was a beautiful tribute and celebration of a truly remarkable woman and I, for one, was very honored to be a small part of it.  Only really special people in life are known only by a single name and for all of us lucky members of Tau Beta Sigma, that name is Wava.  I think Reese summed up the evening's event the best has he explained that throughout their years together, "What a Ride!"