Shalyn Guthery, MWD Counselor

Theta Xi, Iowa State University
Shalyn Guthery is a Life Member of the Theta Xi chapter of Iowa State University. As an Active member, she held a variety of chapter positions including Public Relations Chair, Vice-President, President and Secretary/Treasurer for the Midwest District (2011-2013). Shalyn graduated with a B.S. degree in Bioinformatics and Computational Biology in 2013, and a M.S. degree in Computational Biology from Carnegie Mellon University in 2015.
Over the years Shalyn has maintained an active Alumni presence, serving on National committees and as President for the Midwest District Alumni Association. In addition to attending District and National events, Shalyn is also currently serving as Assessment Committee Chair.
In her free time, Shalyn enjoys participating in the Iowa State University Alumni Band, creating through crafts and code, exploring off the beaten path, and taking pictures of her two kitties – Pixel and Ambre. Shalyn currently lives in Des Moines, Iowa and works for Source Allies as a Software Engineer and Data Analytics Consultant.
Sara Remoy, MWD Counselor

Psi, University of Arkansas
Sara Remoy is a Life Member of the Psi Chapter of Tau Beta Sigma at the University of Arkansas. During her time as an active member, she participated in a variety of activities including being selected as the 2016 Southwest District Keynote Speaker and serving as her chapter's Vice President of Membership Education. Sara graduated in 2016 with a Bachelor of Music degree in Instrumental Education and went on to earn a Master of Music degree in Music Performance from the University of Arkansas in 2019.
Sara has remained active as an alumna in Tau Beta Sigma through her memberships with the Tau Beta Sigma Alumni Association and the Southwest District Alumni Association. Through her participation in SWDAA, she has served on several committees, such as the membership and program committees, and in multiple roles such as Membership Director and as Tau Beta Sigma Co-Member-at-Large.
Sara is currently pursuing a Doctor of Musical Arts degree in Bassoon Performance and Pedagogy at the University of Iowa. She lives in Iowa City with her two cats, Kami and Kara. In her free time, Sara enjoys crocheting, reading, and exploring local walking trails.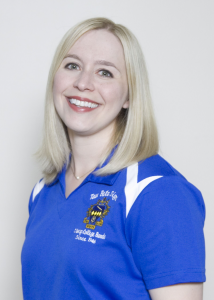 Katie Langley, NCD Counselor

Psi, University of Arkansas
Originally from Jonesboro, AR, Katie Langley was initiated into the Psi Chapter of Tau Beta Sigma in 2008 at the University of Arkansas where she played clarinet in the Razorback Marching Band. As an active member, Katie was involved in multiple leadership positions at the chapter and district level including serving as the Southwest District Vice President for Membership (2011-2013). Upon graduating in 2013 with a Bachelor of Arts in Anthropology and Drama, Katie moved to Chicago, IL to pursue a graduate degree in Social Sciences from the University of Chicago.
After earning her Master's Degree, Katie spent the next few years working with a nonprofit theater education group (Chicago Youth Shakespeare) while also serving as a stage manager with some of Chicago's many storefront theater projects. Katie currently puts her organizational skills to work in the corporate sector, serving as a Knowledge Manager for a healthcare consulting firm. She spends her free time reading, running, playing with her 2 cats, and cheering on the Razorbacks from afar and the Chicago Cubs nearby.
Jenny Hirt Renaud, NCD Counselor

Alpha Delta, Ohio University
Jenny was a member of the Alpha Delta chapter at Ohio University. During her time there, Jenny served as Chapter Vice President of Membership and President. She then served as the NCD President from 2008-2010. Jenny graduated with a Bachelor's Degree in Hearing, Speech, and Language Sciences. During her last quarter in Athens, she found the field of Applied Behavior Analysis (ABA Therapy) for individuals with Autism and relocated to Indianapolis, IN to pursue her career in the ABA field. Jenny served as a therapist, then Team Leader/Branch Manager. She has recently moved into the enrollment department helping families in their journey to enroll in services. 
She currently resides in Fishers, IN with her husband Marc and two children (Aiden and Emma) who continue to keep them busy on a daily basis. In her spare time, she loves to visit with family and friends and take her kids on new adventures!
Dr. Ted McCadden, NED Counselor

Eta Sigma, Towson University
Dr. McCadden is a Life Member of Tau Beta Sigma (Eta Sigma) and Kappa Kappa Psi (Iota Delta). He earned undergraduate and graduate degrees at Towson University, and a Doctor of Education degree at Pennsylvania State University. He is an Associate Professor of Behavioral Sciences at the Community College of Baltimore County, where he teaches courses in Psychology, Sociology, and Counseling. At CCBC, Ted is also active in student activities and serves as advisor for two thriving student organizations.
Ted is a licensed counselor and is active as a researcher and consultant in both counseling and education. He is an honorary member of Phi Theta Kappa National Honor Society and Tri-M National Music Honor Society. Ted performs regularly with vocal and instrumental groups, and currently serves on the Boards of Directors for two performing groups in the Baltimore area.
Dr. Bridgette Crawford Bell, NED Counselor 

Epsilon Omega, Morgan State University
Dr. Bridgette Crawford Bell currently resides in Edgewood, Maryland. She was initiated into the Epsilon Omega Chapter (Morgan State University) of Tau Beta Sigma on November 8, 1997.
Bridgette received her Bachelor of Arts (1999) and Masters of Art degrees (2005) in Music Education/Conducting from Morgan State University. While matriculating at Morgan State University, she played the tuba in the Magnificent Marching Machine "M3" Band, Pep Band, and Symphonic band. Bridgette has a passion for leadership and obtained a Doctorate Degree in Educational Leadership from the University of Phoenix.
Bridgette is currently a teacher specialist for school performance and achievement in Harford County.  In addition to her current role, Bridgette teaches graduate courses and serves as curriculum writer for the Maryland State Department of Education. She is a trusted professional consultant for the National Teacher Board Certification for music standards and a contributing author for the Amazon Best Selling Book "The HBCU Experience: The HBCU Band Alumni Edition."
Kathryn Howell, NED Counselor 

Theta Theta, Henderson State University
Kathryn "Kat" Howell is a Life Member of the Theta Theta Chapter from Henderson State University in Arkadelphia, AR where she received a Bachelor of General Studies. As an Active Sister, Kat served as an officer within her chapter as well as Southwest District President from 2011-2013. Kat also has a Master's Degree in Student Affairs in Higher Education from Stephen F. Austin State University in Nacogdoches, TX.
After earning her Master's Degree, Kat moved to Providence, RI where she lived for 3 years and first got to know the Northeast (and REAL snow). Kat then moved to Boston, MA in 2018 and currently works at MIT as an Assistant Director/Area Director for Residential Life. Since becoming an alumna of Tau Beta Sigma, Kat has continually stayed involved through TBSAA, SWDAA, NEDAA, and attending numerous District and National Conventions.
Kat plays clarinet, and she played bass clarinet for a few of her college years. In her free time, Kat also enjoys exploring new places, exercising, crafting, and cuddling with her dog Katie.
Neil Bleiweiss, SED Counselor

Alpha Omega, Florida State University
Neil Bleiweiss was initiated into the Alpha Omega Chapter at Florida State University (FSU) in Spring 2011. After joining the ranks of Alpha Omega, Neil went on to serve as the chapter Ritual and Regalia Chair for two years, and then on the chapter Executive Board as the Membership Chair in his last semester. During his senior year, Neil served the Southeast District as Parliamentarian, and has since become a Life Member of Alpha Omega, as well as an Honorary Member of the Southeast District.
Neil earned his Bachelor of Science in Psychology with minors in French and Philosophy from Florida State in 2014, and his Master of Arts in Global Sustainability with a concentration in Sustainable Tourism from the University of South Florida (USF) in 2017. Neil works as a Coordinator of Preadmissions and Outreach at USF Health, where he recruits new students for the various health programs (medicine, pharmacy, etc.). When not working, Neil can be found on stage in various musical theatre productions, and he loves to travel, read, and relax at home with his cat Quincy.
Kelsey Reilly, SED Counselor

Omega, University of Arizona
Kelsey became a member of TBS Omega at The University of Arizona in 2008, and a life member in 2010. As an undergraduate, she was active in The Pride of Arizona Marching Band, Pep Band, University Choir, and Chamber Choir. Before being appointed as the Western District Secretary/Treasurer, she was Omega's Alumni Secretary and Sisterhood Committee Chair. As an alumna, she has served as the Chapter Adviser for the Iota Upsilon Chapter at St. Augustine University, a charter member of the Western District Joint Alumni Association, and most recently as a Chapter Visitation Assistant for the Southeast District.
Kelsey currently holds a degree in Interdisciplinary Studies with a focus in Special Education and Deaf Studies, while fulfilling her lifelong dream of being a stay-at-home-mom in Raleigh, NC. In her free time, Kelsey likes to play board games, binge watch Netflix, follow college sports with her family, and reduce her carbon footprint by #GoingGreen.
Amber Scott, SED Counselor

Theta Upsilon, Winston- Salem State University
Amber Scott was initiated into the Theta Upsilon Chapter of Tau Beta Sigma at Winston-Salem State University (WSSU) on April 6, 2001.  While marching in the band, she was on the 
Silky Smooth Flag line. As an active member of the organization, she served in various leadership roles including Treasurer, Vice President and chapter President.  In 2011, she assumed the role of Campus Advisor for the Theta Upsilon Chapter and in 2013 she became Sponsor.  She continues to serve in this position.  Amber is also a Life Member of Tau Beta Sigma.
Amber graduated from WSSU in 2004 with a Bachelors of Science Degree in Nursing. She currently works as a Nurse Educator in Greensboro, NC. She is married to the love of her life, Reggie, who is a member of the Kappa Lambda Chapter of Kappa Kappa Psi.   When she is not teaching or serving in her church, she enjoys spending time with her family and traveling with her husband to see other bands.
Linnetta Ratliff, SWD Counselor

Epsilon Beta, Texas A&M University – Commerce
Linnetta was initiated into the Theta Upsilon Chapter of Tau Beta Sigma as a charter member on March 28, 1999. She has been a Life member of the Theta Upsilon chapter of Tau Beta Sigma at Winston-Salem State University (WSSU), since 2001, and consecutive Alumni Association member since 2014. During her time as an interested member and active, she served in several capacities including Historian, Secretary, and President. Netta graduated from WSSU in December 2000 with a Bachelor of Science degree in Nursing.
Linnetta earned a Master of Business Administration in Healthcare Management from the University of Phoenix in 2011. She currently works as a Clinical Enablement Director at a fortune 50 company. She is married to Geonte', Sr. and has four children all of which have an appreciation for Music and the Arts. The last several years she has been a band/guard mom within the Plano East Cluster and now will continue her journey as a football mom. Netta loves to travel, enjoys crafting, event planning, and spending quality time with her family.
Katie Rixon, SWD Counselor

Theta Theta, Henderson State University
Katie Rixon is a Life member of the Theta Theta chapter of Tau Beta Sigma at Henderson State University. While at Henderson State, Katie received a Bachelor of Science in Education with concentration in Middle Level Education.
Katie was initiated into Tau Beta Sigma in the fall of 2006. During her time as an active member, Katie served as the Band and Community Service Coordinator and Treasurer for her chapter. Upon graduation, Katie joined the Tau Beta Sigma Alumni Association and Southwest District Alumni Association. She served on the SWDAA Board of Directors in various roles- including serving three terms as the Chairperson. From there, Katie was elected to the TBSAA Executive Council where she served as the Programs Chair and then as the Chairperson for the Executive Council.
Katie currently lives in Richardson, Texas with her husband, Christopher and her daughters, Charlie and Claire. When she isn't teaching mathematics to her sixth-grade students, Katie can be found volunteering at her church, spending time with her friends and family, and playing board games.
Chelsea Rasing, SWD 

Theta Mu, University of Nebraska Kearney
Chelsea was initiated into the Theta Mu chapter of Tau Beta Sigma at the University of Nebraska Kearney in the fall of 2010. During her time as an active member, she held various leadership roles including Ritual and Service chairs, Treasurer, Recording Secretary, and Vice President. She also served as Midwest District Secretary/Treasurer for one year. 
Chelsea earned a Bachelor's Degree in Middle Grades Education in 2016. Upon Graduation, Chelsea stayed involved as an alumnus by joining the Midwest District Alumni Association and serving 2 terms as Secretary/Treasurer. She is currently a member of the Tau Beta Sigma, Midwest District, and Southwest District Alumni Associations. 
Chelsea currently lives in Houston, TX where she is a middle school science and robotics teacher in Spring Branch Independent School District. In her free time, Chelsea enjoys playing clarinet with the Houston Pride Band, reading books, and seeing whatever musical comes to town.
Alexis Holladay, WD Counselor

Eta Omega, California State University
Alexis was initiated into the Eta Omega chapter at California State University, Fresno in Spring 2001.  During her time as an active sister she served in various chapter leadership roles, including Secretary, Vice President of Special Projects (2 terms), and Vice President of Candidate Education.  As an undergraduate, Alexis was also an active participant in the marching band (Mellophone and Bass Guitar), Wind Ensemble (String Bass), Symphonic Band (Trumpet/French Horn) and Concert/Jazz Choirs.  She graduated cum laude with a Bachelor of Science degree in Criminology.
Upon graduation in 2008 with her Master's degree in Counseling and Student Services (with a specialization in Higher Education), Alexis was appointed to the Tau Beta Sigma National Committee on History and Archives, where she assisted the National Historian on matters pertaining to the organization and maintenance of historical documents. She worked with other committee members on grant proposals for archival purposes and participated in Archives Work Days at Stillwater Station.
In her professional life, Alexis has assisted college students in obtaining their career and educational goals, most recently as an Academic Counselor for the College of Science and Mathematics at California State University, Fresno. She is an active freelance bassist for local community and professional musicals and plays French horn in community band.  When she is not at work or performing, she can be found playing quiz games at local restaurants, listening to podcasts while running on the trails of the nearest park, and traveling as much as possible.
Sarah Cox, WD Counselor 

Epsilon Kappa, University of California Los Angeles
Sarah attended the University of California Los Angeles, where she studied music history and minored in Spanish. During her time there, she enjoyed playing clarinet in marching band, and she was initiated into the Epsilon Kappa Chapter in spring of 2010. She has held the positions of Treasurer, Director of Sisterhood Activities, and Chapter President. During her final year in TBS, she became the Western District President. As an active sister, she was awarded the Distinguished Sister Award, Rose and Carnation Award, and the Baton.
After graduating from UCLA, Sarah continued her education at the University of Southern California. She earned her Master of Arts in Teaching and teaching credential, and she currently teaches 4th grade in Long Beach. In her free time, she teaches modern band, performs in her church handbell choir, and enjoys traveling.