The National Shrine of Tau Beta Sigma
On May 10, 1969, a monument recognizing the founding of Tau Beta Sigma at Texas Tech University was unveiled adjacent to the front steps of the Music Building on the Texas Tech campus in Lubbock, Texas. The date was chosen to be as close to the installation date of the Beta Chapter as possible. The Beta Chapter was installed on May 4, 1946.
The design was drawn by members of the sorority and engraved by Mr. H. Browder of Lubbock, TX. The National Monument displays the official Tau Beta Sigma crest. Below the crest are the words: Tau Beta Sigma National Sorority For Band women – Founded, Texas Technological College – Chartered May 4, 1946.
Honored guests from the Texas Tech Music Department, the city of Lubbock, and members of Tau Beta Sigma and Kappa Kappa Psi †were present during the dedication ceremony. Speeches were delivered by National President Patsy Hejl, National Executive Secretary Robert Rubin, Texas Tech Director of Bands Dean Killion, National Treasurer Carol Blaine, Beta Chapter President Kanda Kinney Washburn, and monument committee chair Zem Neill.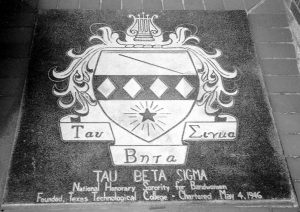 The National Shrine of Kappa Kappa Psi
The National Shrine of Kappa Kappa Psi Fraternity is located on the campus of Oklahoma State University in a prominent position immediately west of the Classroom Building. Shaped as an irregular shaft a little over four feet in height, the Shrine is made of native Oklahoma pink granite. On its sloping polished top is a bronze plaque, and the three Greek letters, "Kappa," "Kappa," "Psi".
The raised-letter inscription on the plaque reads as follows:
KAPPA KAPPA PSI
NATIONAL HONORARY BAND
FRATERNITY, FOUNDED AT
OKLAHOMA STATE UNIVERSITY 1919

TAU BETA SIGMA
NATIONAL HONORARY
BAND SORORITY
FOUNDED 1946.
The National Shrine was formally dedicated on March 26, 1960. The ceremonies were attended by Charter Members of the Alpha Chapter of Kappa Kappa Psi, past National Presidents of the Fraternity, National Officers of both organizations, and administrators of Oklahoma State University. Ceremonies included wreath-layings, in memory of the founders of the Fraternity, by the current presidents of the Alpha Chapters and representatives of the National Councils of Kappa Kappa Psi and Tau Beta Sigma.
Dedicatory addresses were given by Donald I. Moore (Beta Alpha), past National President of Kappa Kappa Psi and Barbara Van Derbur (Beta Theta), National Second Vice President of Tau Beta Sigma. Accepting the monument on behalf of the University was Executive Vice President of Oklahoma State, Dr. Robert MacVicar. Charter members present for the occasion included: Clyde Haston, Hawthorne Nelson, Carl Stevens, Richard Hurst, Clayton Soule, and A. Frank Martin.