Happy 75th Anniversary Tau Beta Sigma!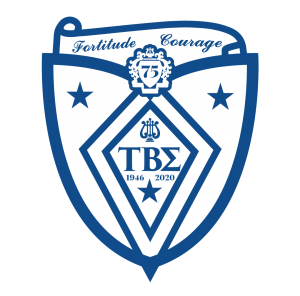 In 1939, three women at Texas Technical College wanted to serve their band by providing social, educational, and other positive experiences needed by women. What started amongst friends as a desire to serve their bands has expanded to involve over 130 active chapters and nearly 2,500 active members across the country. We have over 50,000 alumni and nearly 3,700 life members who carry our organization's ideals in all walks of life across the entire world.
We invite you to join us in celebrating this milestone anniversary throughout the coming months.
Merchandise
In celebration of the 75th Diamond Anniversary of Tau Beta Sigma, visit our marketplace to purchase commemorative and exclusive merchandise!
75 Ways to Celebrate
Need some ideas of ways you can commemorate the 75th Anniversary? Whether alongside your sisters, or virtually via Zoom, we have created 75 ways to commemorate this occasion on your own time.
**75 WAYS TO CELEBRATE**
National Convention
Join us in Grand Rapids, Michigan, July 13-16! Throughout the convention, we will be highlighting our bold and enduring legacy with interactive historical displays and presentations. We will conclude our time together at National Convention with a special 1940s-themed brunch on Saturday, July 17, beginning at 9:30 a.m.
Registration information can be found on the National Convention Website.
We can't wait to see how you participate in celebrating this milestone! Be sure to tag us in your social media posts using #TauBetaSigma75 and #Happy75TBS